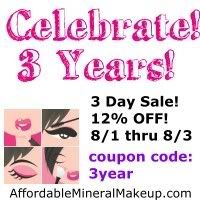 Affordable Mineral Makeup™
is celebrating three years of sucessful business on Sunday, August 1! I have been proud to serve as your AMM consultant since Novemeber, 2007 and look forward to many more years providing you with quality makeup, free of additives and fillers, all at an affordable price.
What's a birthday without presents? In celebration of this lankmark I'm offering two gifts, and they are both for you! First is our company-wide special 12% discount code, valid three days only, Aug. 1-3 (until midnight EST) to be redeemed at
www.InnerBeautyGirls.com
- click on "Shop" near the bottom of the page, add items to your cart, then
use coupon code: 3year
at checkout to receive your discount.
The second present is my personal gift to my faithful customers. When you have made your purchase, come back here and leave me a blog comment with your order number and I'll give you three entries into a drawing for a free makeup bag! :) (Please note, this give-away is sponsored directly by me and is NOT connected to Affordable Mineral Makeup™ as a compnay. It will not do you any good to leave a comment about the makeup bag in the shopping cart comments area when you place your order. In fact, doing so would only complicate the fulfillment of your order as the company would not know what you are talking about.) To enter for the makeup bag you must come back to this blog at
www.InnerBeautyGirlz.com
("girls/z" is spelled with a "z" for this blog while spelled with an "s" for my main product page) to leave your comment with your order number.
Want to earn more entries into the drawing and be sure you never miss deals like this again? Here's how to earn up to five more entries!
1. Please follow this blog -
www.InnerBeautyGirlz.com
and leave me a comment for this action (if you are already following, leave a comment stating so) including the email address associated with your follow. Earn one entry.
2.
Follow me on Twitter, username InfertilityMom
and leave me a comments with your Twitter ID (even if you are already a follower). Earn one entry.
3. You can also earn entries for posting the following messages or re-tweeting my Twitter posts on this sale at least once per day during the three days of the sale. Leave me a comment with the link to your tweet each day for one entry per day. RT messages:
RT @InfertilityMom Save 12% on Affordable Mineral Makeup & many ways to win FREE bag at www.InnerBeautyGirlz.com Plz RT!
OR
Visit @InfertilityMom at www.InnerBeautyGirlz.com for 12% Affordable Mineral Makeup discount & enter to win FREE bag. RT!
OR
12% off Affordable Mineral Makeup at www.InnerBeautyGirlz.com & enter to win makeup bag. Plz RT!
So now you have a potential of earning up to EIGHT entries into this contest! (three for purchase, one for blog follow, one for Twitter follow, one per daily RT on each of the three days of the sale). I will accept entries through Aug. 4 (so those who order on the 3rd still have time to post order numbers) and will announce a winner by next weekend. Please be sure to leave me a valid contact email address with each entry so I'm able to contact you for mailing address when you win!